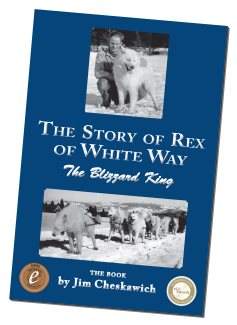 Welcome to the Rex of White Way, The Blizzard King website!
Rex was a pure-bred Samoyed who lived from 1946-1957 and led an adventurous life in the mountains as a lead sled dog involved in a U.S. mail run over the 7,200 feet high Targhee Pass during the snow season and in over 30 human rescues in the Sierras, including pulling out downed planes near the Truckee, California airfield in 1949 and the delivery of Dr. Nelson in January 1952 to the snowbound 226 passengers and crew aboard the City of San Francisco streamliner train stuck in a blizzard at Yuba Gap, California.
During his "off time," Rex was a conformation show dog, won many speed and freight races, and appeared on a movie set with John Wayne for Island in the Sky and on television with Richard Boone in Have Gun Will Travel.
Find out how to order his hard and soft cover book and e-book.  Enjoy his photo gallery and an actual short film clip of Rex, learn about the Rex Memorial Library, scholarships, and plans for the Rex docu-drama, and more!
Jim C.
From Rex the Blizzard King Stories, LLC a new book is now available!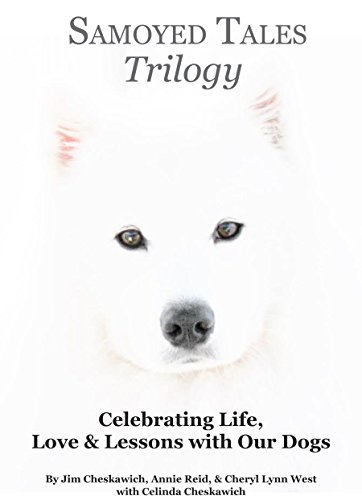 From Rex the Blizzard King Stories, LLC a new book is now out and available at www.amazon.com.  The price is $23.58 for the softcover and $6.99 for the Kindle.  There are over 30 pictures of Rex in the new book in Chapter1, Part I.  Many are new pictures that became available for the first time through the Rex of White Way Samoyed Memorial Library.  Original artwork and stories by Annie Reid are in Part II of the book.  Part III follows with Cheryl West's experiences living with Samoyeds. Our stories capture the unique spirit of the Samoyed breed through often improbable and fascinating tales.  A limited edition hard cover Trilogy book is in production and should be available in spring of 2018. Click here to buy yours at Amazon.